Invisible Lock Collar
Is uw sub, slaaf of slavin er aan toe om te laten zien dat het uw bezit is?
Deze prachtige glimmende  of matte RVS collar is geschikt voor dagelijks 24/7 gebruik, deze bevat een onzichtbare sluiting  zonder slot.
---
---
Additional information
| | |
| --- | --- |
| Weight | N/A |
| Dimensions | N/A |
| Dikte | 8 MM |
Meet Instructies
Om de maat van je producten op te meten kan je de meet instructies volgen zoals hier uitgelegd.
Pak een centimeter band en meet op dezelfde manier als zoals in de foto: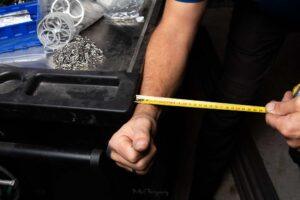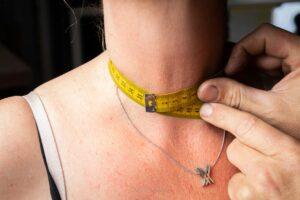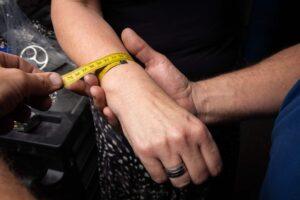 Let op met meten dat het niet perfect afpersend strak moet zijn, anders kan de maat verkeerd zijn.
Als je zeker wilt zijn dat je de correcte maat hebt, maak dan een afspraak met ons. Dan kunnen wij de maat zelf opmeten en uittesten. Hiermee voorkom je dat je product terug gestuurd zal moeten worden vanwege de maat.