Spike's Collar
Samen hebben jullie al een tijdje gekeken naar die ene collar om jullie verbintenis vorm te geven. Maar die ene stalen collar is net iets teveel voor dagelijks gebruik? Verras jouw sub, slaaf of slavin met ons alternatief. Een prachtige armband met O-ring die jullie verbintenis symboliseert. Uitgevoerd in kwalitatief hoogwaardig RVS.
---
---
Meet Instructies
Pak een centimeterband.
Meet de omtrek van het lichaamsdeel op de manier zoals aangegeven in de afbeelding hieronder.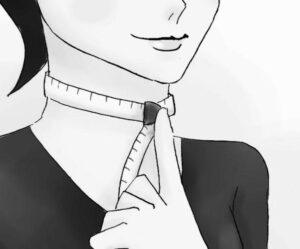 Let op! Niet straktrekken of ruimte erbij rekenen.
Wij zijn niet verantwoordelijk voor verkeerde opmetingen.
Als je zeker wil zijn van je zaak, kom gezellig bij ons langs op afspraak.